Exploring the largest city in Europe in one weekend may seem ambitious. However, if you only have a couple of days to spend in transcontinental Istanbul, as I recently did, here is a short guide to what to do and where to stay.
The Touristy Essentials While Istanbul sits between Europe and Asia, its historical centre lies in the European, continental side, and all its main touristic attractions lay within walking distance of each other, which makes it very easy to see them all in one day- useful if time is in short supply.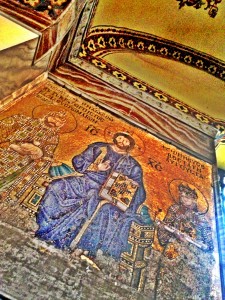 The magnificent Hagia Sophia is undoubtedly top of the list. The epytome of Byzantine architecture, it was built as a Greek orthodox church in the 7th century, turned into a mosque in the 15th century and eventually transformed into a museum in 1935. Its beautiful dome and mosaics  will leave you speechless. The windows in the upper gallery offer a beautiful view of the Blue Mosque, another landmark built in the 16th century opposite Hagia Sophia.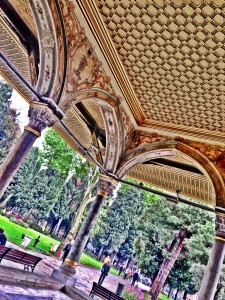 Also unmissable is Topkapi Palace, the former primary residence of the Ottoman sultans. Built in the 15th century, this oasis of peace has sprawling gardens, airy verandas and beautiful, intricate mosaics and paintings. As well as being easy on the eye, it also offers an interesting visual history of the sultans' court, with its Harem, Imperial Treasury, Bath of the Queen Mother, amongst its plethora of elegant buildings. The Basilica Cistern will particularly appeal to those interested in architecture: a beautiful piece of historical engineering, this underground water reservoir, built in the 6th century, is also known as the "Sunken palace", due to the 336 beautiful, 9 meters high imposing marble columns supporting its structure.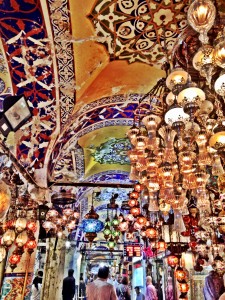 A mere 15 minutes walk from all those historical landmarks is 15th century Grand Bazaar, one of the largest covered markets in the world, with 60 streets, 5 000 shops and its own mosques, hammams and police station! Not for those with a propensity for claustrophobia, but worth the visit for the atmosphere. On the other side of the Bosphorus (but still walking distance) is the Galata Tower, an imposing 65-meter high Medieval stone tower buikt by the Genoese is the 15th century.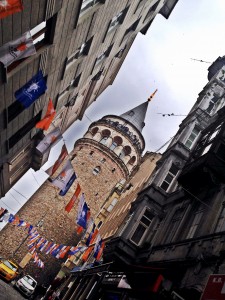 Situated at the top of the busy, commercial district of Galata, it has the added advantage of housing a bar at the top, with beautiful views of the city and the Bosphorus- although be prepared to queue. Of course, there is much more to Istanbul than those well known landmarks, just as there is more to Paris than the Eiffel tower or to London than Big Ben. However, they are all impressive and make for a great introduction to this beguiling city.
The Place to Stay Undoubtedly Soho House Istanbul, the latest addition to Nick Jones' empire of private clubs and hotels, situated in the trendy Beyoglu district.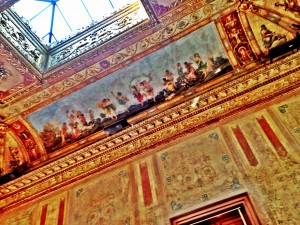 Having been a member of Soho House for over a dozen years, I delayed visiting the city four years ago when I first heard of plans to open this new club/hotel, and I don't regret it. Of all the Soho Houses with hotels I visited, including Shoreditch House, Soho House Berlin and Soho Beach House in Miami, Istanbul is by far the most impressive- and that says a lot given how amazing the others are. The club itself is housed in Palazzo Corpi, an Italianate palace built by a Genoese family in the 19th century, and displays an impressive collection of original frescoes, oak panelled walls and majestic marble facade and staircases.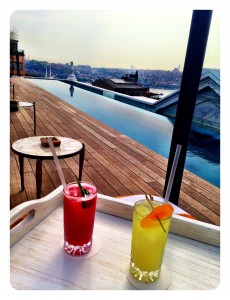 There is several bars and restaurants (including Cecconi's), a swimming pool on the roof with views over the Bosphorus and a nightclub (Embassy). The hotel itself is situated in a brand new glass building nearby, with facilities including a Cowshed spa, a traditional hammam, a hairdresser, a gym and another swimming pool on the rooftop (not yet open when I visited but it looked great viewed from the other pool). The style of the bedrooms is "contemporary Ottoman", with plenty of extras such as a steam room incorporated within the rainforest shower, abundant Cowshed beauty products and a Marshall bluetooth speaker if you want to boogie in the comfort of your own room. Non Soho House members who stay at the hotel have access to the club, which makes it worth in itself. Prices start at 115 euros for a "Tiny room" rising to 750 euros for the gigantic "Playroom" , with an extra 25% discount for members. www.sohohouseistanbul.com
The Fun Bits: Food and Shopping I'm a big fan of kebabs and mezze, especially after a big night out, however discovered on my recent visit that there is much more to Turkish food than these well known traditional fares. Istanbul is a very sophisticated city, and so is Modern turkish, with its blend of spices and contemporary reinvention of traditional recipes.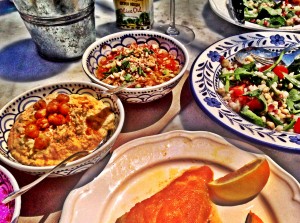 The oak panelled, elegant Mumferit is a case in point, with a selection of fabulous small plates including ovenbaked white cheese with porcini mushrooms and truffle oil, grilled octopus served over Black ink couscous or sage ice cream. Yeni Lokanta is another little gem, which serves the most incredible artichoke dish (infused in yogurt and spices) I've ever tasted in my life and a pudding of fresh fig baked in filo pastry served with tahini which was splendid. For a slightly  more simple offering, albeit in a heavenly, garden-like setting, there is the Mandolin Terrace in Soho House, which has a great selection of traditional mezze and fresh salads (but reserved for Soho House membvers and hotel guests). As for shopping, I had to limit myself to one afternoon only, but managed to find a few gems, although there is much more to be discovered: Hars in Galata, for its lovely, good quality cotton towels, bathrobes and scarves; Passage Boutik in Beyoglu, for a selection of quirky. local designers's dresses; Yoruk Collection in Sultanahmet for beautiful cushions and kilim clutches; WeHandmade, for cute, contemporary jewellery.