The historic company founded in 1600 by queen Elizabeth -which brought tea, spices, chocolate and coffee to Britain and once employed a third of the British workforce- is re-launched with the opening of a luxury food store in Mayfair on 14 August. Modelled on the house of a Georgian gentleman officer, this gorgeous store draws on the East India Company's heritage as the first global luxury brand, to offer a range of exotic luxury gourmets treats, infusing flavours from the East with western favourites
Few companies can boast such an impressive pedigree as the East India Company, originally established in 1600 by Queen Elizabeth I. This "Honourable Company of Merchants" -once responsible for half of the world trade and employing a third of the British workforce- not only brought tea, spices, chocolate and coffee to Britain, it also influenced the world we live in today.
As the world's first multi-national company, complete with its own army and currency, it founded trade outposts such as Singapore and Hong Kong, and was granted the island of St. Helena by the Crown, thus being in charge of looking after Napoleon Bonaparte when he was exiled there. While the French emperor's praise of the company's local coffee launched its fashion in Paris, the decision by the East India Company to abolish slavery on the island in 1832 paved the way for a ban in the rest of the colonies, with the law being adopted by Parliament one year later.
Nationalised by Queen Victoria in 1874, it set the footprints of the British Empire, but as a company was laid dormant for more than a century. Its acquisition by Indian entrepreneur Sanjiv Mehta in 2005 has led to its current re-launch, with permissions granted by the Treasury to use the company's name and original trademarks, leading to the opening of its first ever store.
Trivia: the word "cash" comes from the name of the East India Company's own money, while the word "posh" derives from those select few who travelled Port Outward Starboard Home- the sunnier side in the company's ship sailing eastward that commanded a premium.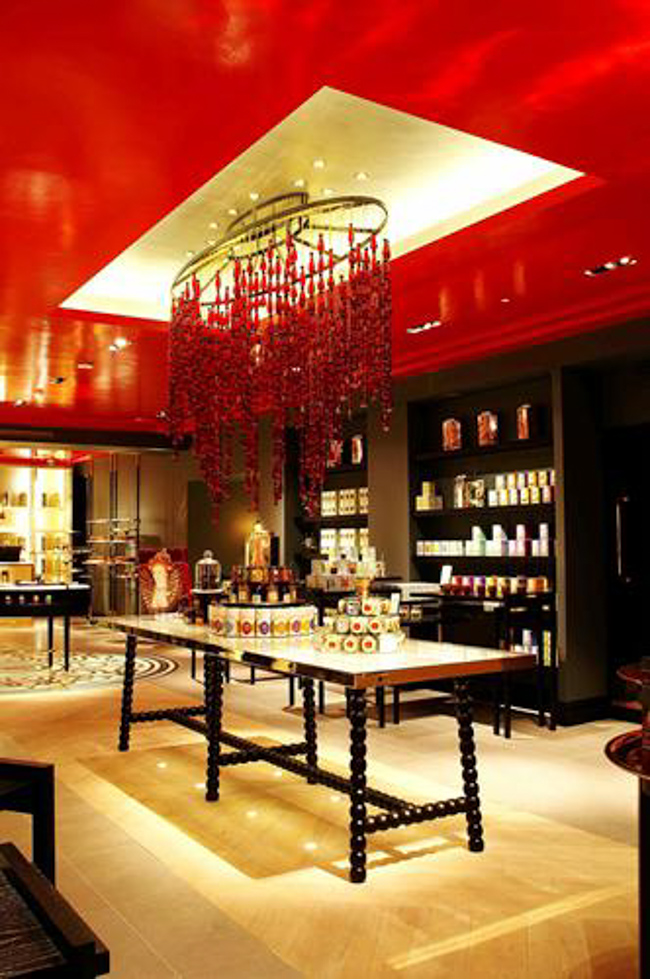 Inspired by the imaginary home of one of the Company's officers, the shop mixes Georgian features with exotic elements, in shades of black, gold and red, and includes a tea library, a bespoke coffee station where people can blend their own beans amongst the 60 core blends and several specialist tasting areas. It also incorporates historic fixtures recovered from the Company's archives, such as the original coins inlaid in the counter table.
The range of products, which took three years to develop, put the emphasis on perennial favorites such as tea, coffee, biscuits, jams, sugars and mustard, with Western recipes made from Eastern ingredients, with prices starting at £2.
Flowers cordials (including orange blossom, mimosa, jasmine, hibiscus, rose and violet); chocolate bars flavoured with red peppercorns, sea salt or fennel; luxury box sets themed from 18th century company paintings and travelers diaries; chocolate and chili sweets; dried damask roses to infuse; strawberry and pepper jam; gold leaf marmalade are mongst its numerous gourmet treats. In brief, a beautiful destination for some original foodie gifts…
The East India Company, 7-8 Conduit Street W1 (Oxford Circus)