Trendy gourmets like nothing better than a contemporary twist on a much loved classic. In that regard, Maître Choux, the specialist patisserie that recently opened in South Kensington, is spot on. Like Pierre Hermé with macarons, young French pastry chef Joakim Prat  -former head pastry chef at Joël Robuchon's L'Atelier, at The Greenhouse and at Can Fabes in Barcelona- has reinvented the traditional éclairs, choux à la crème and chouquettes poupalre with French kids and gastronomes. Joakim's already impressive experience makes Maître Choux the only pastry shop in the UK with a three Michelin star experienced chef at the helm. If that sounds rather good, it's because it -literally- is.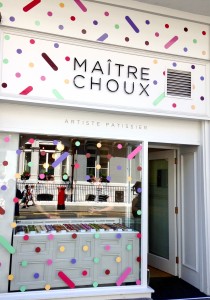 What Choux pastry is a light dough that rises in the oven, leaving the inside soft and hollow and the outside golden and crispy. A staple of every patisserie in France, it is a very malleable yet simple bakery base. Bringing a contemporary twist to a classic French speciality, Joakim's hand-crafted designs are as exquisitely pretty as they are delicious. Éclairs range from Salted Butter with Home-made Caramel and Arabica Coffee to Persian Pistachio (our favourite) and Spanish Raspberry Pink, whilst the choux à la crème include Tahitian Vanilla and Italian Lemon. Bespoke designs can also be created to order.
Who Born and raised near Biarritz in south west France, Joakim had held the position of head pastry chef at restaurants with a combined count of nine Michelin stars by the age of 29. Before launching Maitre Choux, he most notably held the position of head pastry chef at two Michelin-starred L'Atelier de Joël Robuchon from 2011 to 2013, then at the two Michelin-starred Greenhouse Restaurant from 2013, while holding the position of executive pastry chef at the three Michelin-starred Can Fabes in Barcelona. Regarded as one of the UK's most creative chefs, Joakim was crowned UK Rising Talent in the UK Pastry Open World Cup 2013 and received a gold medal for the Best Dessert of the Year UK 2014.
15 Harrington Road SW7 (South Kensington Tube)  www.maitrechoux.com