Since its opening in 2005 by Skye Gyngell, this garden café has become one of the most sought-after lunch tables in London, with regular clients including the likes of Madonna, Stella McCartney and Nigella Lawson, and a list of awards such as Time Out's "Best Alfresco Restaurant" and Tatler's "Most Original Restaurant". Originally from Australia, Skye Gyngell worked as a chef in Sydney and trained in Paris before moving to London to work at The French House and The Dorchester. Here, she talks to Chic-Londres about her approach to food and her favourite gourmet addresses in London.
How would you describe the British approach to food and how it has evolved since you became a chef? I think the perception of British food has changed dramatically. Britain is very firmly on the culinary map now, although it wasn't for a long time and had a reputation for terrible food. While Paris was always considered to be the culinary capital, that is no longer the case, with London restaurants now being well known: over the thirty years I have been working, this constitutes a 100% turnaround.
What is you restaurant's culinary style and do you have a « signature » dish? The style of cooking at Petersham is quite eclectic and can't be pigeon holed, as the menu changes almost daily. Our emphasis is on good quality seasonal ingredients: from there, we cook whatever feels right on the day, inspired by the produce that becomes available to us. For this reason, I don't have a signature dish, and would hate to have to cook the same dishes constantly. Beautiful produce is the most inspiring thing of all: it dictates what we cook.
What defines a good chef in your opinion? To me what defines a good chef is passion, a complete belief that this is the only thing they want to do, an excitement for produce and a desire to learn. Arrogance does not make for a good cook: we never, ever stop learning and it is important to realise that working in a restaurant is not about one person only, but about the team, with everybody's contribution and knowledge just as valuable. A single chef could no more run a restaurant on his or her own as fly to the moon.
Where do you buy the following in London?
Cheese: La Fromagerie for French, Italian and Spanish and Neil's Yard for British cheeses.
Wine: Les Caves de Pyrène and Liberty Wines.
Bread: Poilâne, Born and Bread, The Flour Station
Cakes: Home made.
Meat: HG Walters
Deli products: Many of our olive oils and vinegars come through our wine suppliers. Brindisa also supplies cured meats, paprika, dried chillies and pulses.
Fruits and vegetables: Rushtons, La Credenza and Natoora.
Which are your favourite London's restaurants ? I love Moro, The River Café, Dinings and The Dock Kitchen, a new restaurant owned by a friend of mine.
What is your favourite dish and is there anything you really dislike? I have so many favourite dishes that it is almost impossible to say what it really is, as it changes depending on what mood I am in. The only thing I really don't like is okra.
What culinary advice do you like to give? I would say first that it is very important to enjoy yourself when you are cooking, but also that this is a craft that needs to be learnt, so you should be patient: if something doesn't work, try it again another time. And always use the best produce you can afford, for it means that you are already halfway there.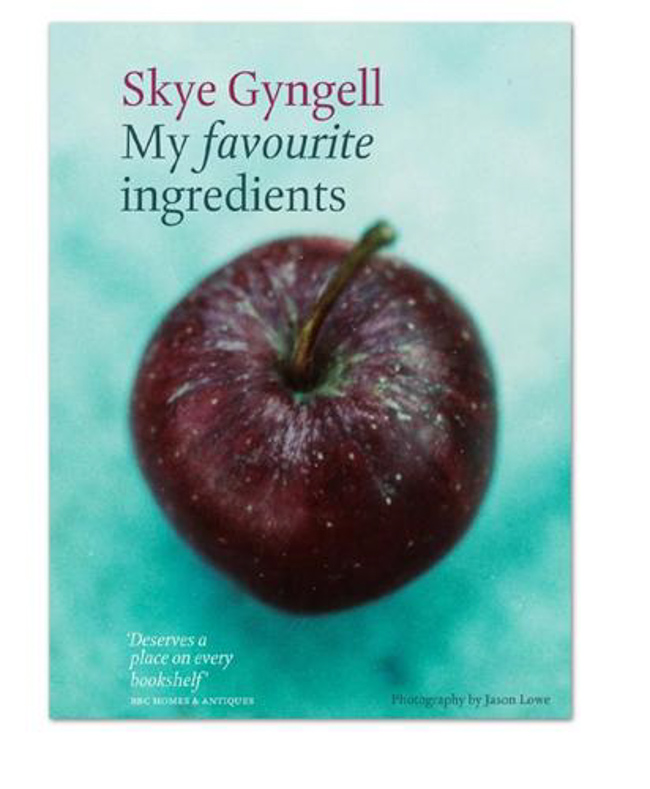 My Favourite Ingredients, Skye Gyngell's latest recipe book, is published by Quadrille, £8.99. Petersham Nurseries Café is open for lunch only, Wednesday to Sunday from 12.00 pm to 3 pm (reservations essential): Church Lane, off Petersham Road, Petersham near Richmond, Surrey.
SKYE'S GOOD ADDRESSES
La Fromagerie: 2-6 Moxon Street, W1 (Marylebone)
Neal's Yard Dairy : 17 Shorts Gardens WC2 (Covent Garden); 6 Park Street EC1 (Borough Market)
Poilâne: 46 Elizabeth Street, SW1 (Victoria)
Born and Bread Organic Bakery: East Dulwich Deli, 15-17 Lordship Lane, London (East Dulwich)
The Flour station: available at Waitrose, Selfridges, Neil's Dairy and John Lewis Food Hall.
HG Walter: 51 Palliser Road, W14  (Baron's Court)
Moro: 34-36 Exmouth Market, EC1 (Farringdon)
The River Café: Thames Walk, Rainville Road, W6 (Hammersmith)
Dinings: 22 Harcourt Street, W1 (Marylebone)
The Dock Kitchen: 344 Ladbroke Grove, W10 (Ladbroke Grove)