Who doesn't like a mojito, the 500-year old mint and rum cocktail invented by pirates and made popular by Hemingway after his return from Cuba, especially when it's 1- Rum Week and 2- Notting Hill Carnival Weekend?  So when the nice people at  Havana Club offered to organise a little pre-Carnival party at my house, I was -understandably- quite happy. The idea was to learn how easy it is to make an authentic Cuban mojito, which it is, after a few attempts: so have a look at the recipe below and practice!
1-Mix Sugar and Lime Squeeze the juice of half a fresh lime into a glass and add two or three (depending on taste) of white sugar. Stir with a spoon or swirl the glass around until the sugar is dissolved.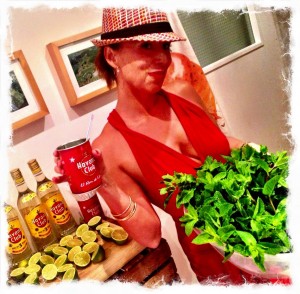 2-Muddle the Mint Tap two whole fresh mint sprigs on the back of your hand to release the fragrant aromas. Fold the mint and place in your glass. Gently muddle (press) the mint a few times with the end of a wooden spoon.
3-Mix Havana Club Rum, Ice and Sparkling Water Fill the glass with ice. Use your Havana Club Tres Anos bottle cap to pour four caps of rum over the ice, then top up with sparkling water.
Et voilà!